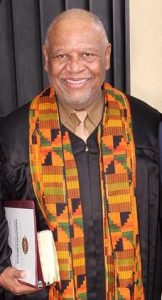 Gospel 1590/106.1 presents Gospel Traxx with Walt 'Baby' Love, Friday, 7pm – 10pm and Sunday, 5am – 7am. Each weekend, award-winning radio veteran Walt 'Baby' Love engages listeners with the unmatched passion, excitement, and entertainment that's made Gospel Traxx one of the longest running inspirational programs.
Walt 'Baby' Love ranks as one of radio's most popular and compelling personalities. Gospel Traxx with Walt 'Baby' Love features him as a highly motivational host while providing inspiration through personal experiences with strong Christian faith and the best contemporary and traditional Gospel music. Gospel Traxx includes the stars of the format and the music that stirs the soul.
Walt 'Baby' Love has engaged radio listeners for over 4 decades, while remaining relevant and highly revered. A trailblazer Walt, many times over, was the first Black on-air talent for powerhouse radio stations and broadcast groups. Eventually he developed a highly successful Urban/R&B countdownshow -The Countdown with Walt 'Baby' Love. His greatest passion is expressed in his strong Christian beliefs with the development of Gospel Traxx. Ordained in the ministry, he became a Deacon and eventually an Elder, where he was able to translate his passion through Gospel Traxx. The show's excellence has been recognized byindustry mainstays from Billboard Magazine to the coveted Stellar Awards.
A great communicator, Walt has also written for Radio and Records industry magazine, as well as authoring, The Gospel According to Reverend Walt 'Baby' Love: Inspirations and Mediations from the Gospel Radio Legend published by Simon and Schuster. You can feel the love every weekend right here with Gospel Traxx with Walt 'Baby' Love.
For more information about Walt 'Baby' Love:  http://www.waltbabylove.com/